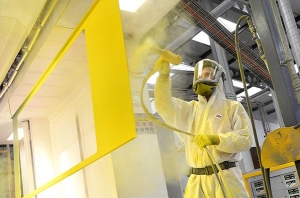 Frontline Recruitment, the nationwide careers specialist, is celebrating record first half results after placing over 1,900 people in jobs in the first six months of the year.
Frontline, which has five offices throughout the UK, has topped off a great start to the year by signing an exclusive deal with Leicestershire-based JC Metalworks to supply the company with temporary and permanent staff for the next three years.
JC Metalworks manufactures metal products from its 60,000 sq ft factory in Loughborough, and has partnered with Frontline for six months before signing the exclusive deal.
Tony Wilmot, director at Frontline Recruitment, said: "Over the last six months we've seen a real upswing in the number of bigger companies who are looking to staff up to deal with increasing orders. JC Metalworks are one example of this, and we're delighted to sign this deal with them.
"We've really got under the skin of what JC Metalworks want from us, and have built up an excellent relationship with both shop floor and senior staff. This has been the basis of our success across all clients we work with. We strive to provide the best quality candidates for each specific job role, and we're very happy that JC Metalworks have decided to work exclusively with Frontline Recruitment during this busy period for them.
Tony says Frontline's flexibility has been the key in securing high profile contracts during the first half of 2015. He added: "What we've seen time and time again is that because we're available out of normal office hours, we're able to supply top quality staff at short notice. Such has been the calibre of our candidates that many temporary workers have been offered permanent terms – and this is something we're rightly proud of. We feel we're really making a difference to both our clients and the people we place in jobs."
Ann Robinson, HR Manager at JC Metalworks, said: "We are pleased to partner with Frontline Recruitment. They have worked really hard to understand our needs and have built up good relationships with key stakeholders in the business.  They are one of the key factors in offering us the flexibility we need as we work to achieve our ambitious growth plans for the future."
Frontline is headquartered in Nottingham, and has offices in Derby, Leicester, Mansfield and Weymouth.