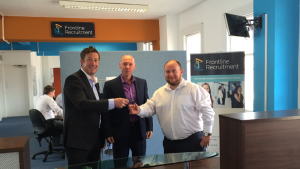 Temporary and permanent careers specialist Frontline Recruitment is set for expansion in Leicester after moving into larger offices in the city.
Frontline has moved into new 2,000 sq ft offices at 27 Bowling Green Street in Leicester. The new offices represent a step forward for Frontline, which employs seven people in the city – and has plans to create two new positions in the coming weeks.
The move also comes at a time of significant growth for Frontline, which has posted a 22 per cent rise in profits compared with the same period in 2014, as the jobs market continues to hot up.
Tony Wilmot, co-founder of Frontline Recruitment, said: "We'd been looking to move in Leicester for some time as we'd outgrown our previous premises. The jobs market in the city and wider county is picking up pace, and we're positioning ourselves at the heart of the city to help with both companies looking to staff up, and candidates who would like to change their career.
"We've noticed a definite shift towards more permanent placements in the region, and this is testament to our knowledge and experience in finding the right people for the right job. It's a win-win situation for both parties."
Frontline, which has five offices across the UK, says that Leicester is one of its fastest growing, with more jobs to come in the city.
Tony added: "We're pleased with the move because it gives us better quality offices, which is attractive to our staff and visitors alike. However, we're also expanding rapidly in Leicester and we wanted to take on new premises to reflect that – and give us room for growth.
"We're extremely pleased with the way the first six months of 2015 have gone for us, and our clients and candidates. With unemployment falling and businesses now implementing their growth plans, Frontline Recruitment is perfectly placed to meet staffing needs, as well as kick-start the careers of hundreds of people each week. I'd urge both those companies looking for staffing solutions, and individuals who want to kick-start their career to come to our new offices to see us."