Careers specialist Frontline Recruitment has expanded in Derby by moving to first floor offices at 3 The Strand Arcade in the city.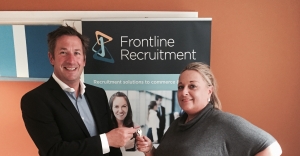 The 1,600 sq ft offices  are situated in the popular Cathedral Quarter area of Derby, and the move comes at a time when Frontline is expanding across the region. The company which has posted a 22 per cent rise in profits compared with the same period in 2014, as the jobs market continues to hot up.
Tony Wilmot, co-founder of Frontline Recruitment, said: "We needed to identify new premises in an accessible city centre location and 3 The Strand Arcade provided the right size and type of space that we required.
"We are delighted to base the business in Derby city centre and look forward to continued growth. The jobs market in the city and wider county is picking up pace, and we're positioning ourselves at the heart of the city to help with both companies looking to staff up, and candidates who would like to change their career."
Frontline, which has five offices across the UK, says that Derby is one of its fastest growing, with more jobs to come in the city.
Tony added: "We're extremely pleased with the way the first six months of 2015 have gone for us, and our clients and candidates. With unemployment falling and businesses now implementing their growth plans, Frontline Recruitment is perfectly placed to meet staffing needs, as well as kick-start the careers of hundreds of people each week. I'd urge both those companies looking for staffing solutions, and individuals who want to kick-start their career to come to our new offices to see us."